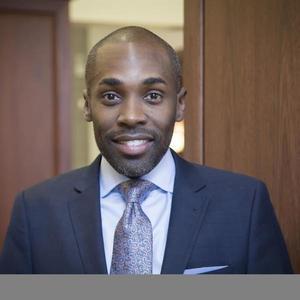 Mr. Paris Dennard
Special guest
Mr. Paris Dennard is a longtime GOP political commentator, writer, consultant and strategist with over a decade of private and public sector experience on all levels of politics and public relations. In addition to his political background, for the past 20 years he has provided business development, brand and image consulting.
Paris has offered his unique perspective on networks such as BET, British Broadcasting Company (BBC), BNC, CBN, CNN, FOX News, MSNBC, Newsmax, OAN, TVONE, and a host of local television, and online programs. His opinion editorial writings can be found in publications such as The Daily Caller, The Hill, and the Washington Examiner. He has been featured in articles in USA Today, The Washington Post, AZ Republic, Diverse Issues, and the LA Times. He regularly offers his political insights as an analyst on dozens of local and national radio stations across the country.
Paris worked in The White House at the pleasure of President George W. Bush from 2005-2009. Paris served in the offices of Political Affairs, Legislative Affairs and Public Liaison most notably served as The White House Director of Black Outreach where he was the liaison to the Black American community at large. He also coordinated and managed White House events, meetings and travel for President Bush, the First Lady, and Members of the United States House of Representatives including advancing The President's visit to Chigi Palace in Rome, Italy. Paris was also asked to be the primary point of contact to the families of the former Presidents and Vice Presidents for the State Funeral of President Gerald R. Ford.
Paris served as the Associate Director for Coalitions at the Republican National Committee from 2009-2011 where he traveled across the country working with grassroots leaders and state parties, training, branding mobilizing leaders for various campaigns. Paris was the Director of Public Affairs for a SC law firm, and Director of Events at the McCain Institute. He founded the PD Consulting Group in 2013 and served in the inaugural class of the American Enterprise Institute (AEI) Leadership Network. In 2020, he took a leave of absence as Senior Director of Strategic Communications at the Thurgood Marshall College Fund to serve as the Senior Communications Advisor for Black Media Affairs at the Republican National Committee for the 2020 election cycle.
Paris got his start in Republican politics in high school quickly rising to the national stage. He has worked on municipal, state and national political campaigns, served in leadership roles for several councils and commissions, as well as received a host of honors and recognitions. Paris has attended every Republican National Convention since 2000 in different capacities ranging from Page, Delegate at Large to Staff. At his first GOP Convention he was offered a major speaking role on behalf of the National Teen Age Republicans organization. During the 2016 election he was an official media surrogate for the victorious Donald J. Trump for President Campaign, and currently serves as a member of the Donald J. Trump for President, Inc. Advisory Board, Black Voices for Trump Advisory Board, and was appointed by President Trump to serve as a Commissioner for the President's Commission on White House Fellowships in 2018.
This Phoenix, AZ native earned two degrees in Public Relations and Political Science from Pepperdine University in Malibu, CA. Paris also spent a semester studying abroad in London (South Kensington), England traveling to eight different countries. This necktie aficionado is known for his extensive tie collection, which exceeds well over 600.
Mr. Paris Dennard has been a guest on 1 episode.
August 25th, 2020 | Season 1 | 31 mins 17 secs

democrat, donald trump, faith, government, news, paris dennard, politics, republican

Join us, as we sit down with political commentator and strategist, Paris Dennard. We discuss all things President Trump, the black community, the RNC, and get into Paris' journey as a Republican and some career highlights. You don't want to miss this one!!

Don't forget to rate, review and subscribe
Here are all our links in one place: https://linktr.ee/downthemiddle