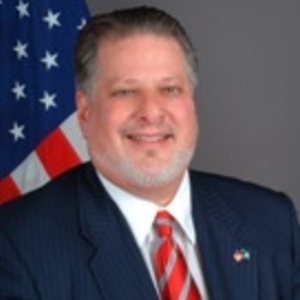 Ambassador Ned L. Siegel
Special guest
Since 1977, Ned L. Siegel has built a very successful career in real estate and business while volunteering time to personally important civic, Jewish, educational and political causes.
Prior to beginning his career in real estate, Ambassador Siegel first began practicing law. He served as a law clerk to Chief Justice Mitchell H. Cohen in the Federal District Court in Camden, New Jersey before moving on to join the New Jersey law firm of Kimmelman, Wolff & Samson.
In 1977, Ambassador Siegel left Law behind to pursue his love of business by joining The Howard Siegel Companies. By 1980, Ned Siegel had expanded the company into one of the largest residential developers in the nation and was named President and Managing Partner of the Weingarten-Siegel Group, Inc., where he was primarily responsible for the operations, overall development and marketing of residential communities, office parks and retail centers throughout New Jersey.
In 1984, Ambassador Siegel expanded The Weingarten-Siegel Group's real estate operations into Florida and California and moved his permanent base of operations to Boca Raton, Florida. Ambassador Siegel is currently a partner in Paramount Residential, L.L.C, a leader in master plan residential communities, custom homes, and special needs communities for Florida's diverse Orthodox Jewish neighborhoods. He also served as Chairman of The Siegel Group, a real estate development and investment firm active in all aspects of residential, commercial, realty management, and investment development.
Active in many business and civic organizations, Ambassador Siegel was appointed by Governor Jeb Bush to Enterprise Florida's Board of Directors and to the Space Research and Commerce Park Planning & Development Committee at the John F. Kennedy Space Center. He was also a Trustee of the Governor's Mansion Foundation, The Greater Boca Raton Chamber of Commerce.
President George W. Bush honored Ambassador Siegel in 2003 with a Presidential Appointment to the Board of Directors of the Overseas Private Investment Corporation (OPIC). In 2006, President Bush appointed Ambassador Siegel to serve as a Representative of the United States to the United Nations.
Ambassador Siegel has a close personal interest and is active in many Jewish causes where he served as a member of the national Board of Directors of the Republican Jewish Coalition in Washington, D.C., as well as Chairman of the Republican Jewish Coalition of Florida. He also served on the Board of The American Jewish Committee, South Central Florida Chapter, and as Co-President of the board of the Jewish National Fund's South Palm Beach County Region. He is active in the Israeli Bonds program, Temple B'nai Torah in Boca Raton, and Chabad Lubavitch of Greater Boynton, where he served as Executive Chairman of the Executive Committee.
Ambassador Siegel graduated Phi Beta Kappa from the University of Connecticut in 1973 and received a Juris Doctorate from the Dickinson School of Law in 1976. A long-time resident of Boca Raton, Florida, Ambassador Siegel is married to Stephanie Moak Siegel and is the father of Justin, Joshua and Jillian Siegel.
Ambassador Ned L. Siegel has been a guest on 3 episodes.
November 25th, 2020 | Season 2 | 27 mins 43 secs

democrat, faith, government, news, politics, republican, thanksgiving

Join Justin for a special Thanksgiving edition of 'Buzzed History', for the conclusion of our interview with the Honorable Fred Zeidman (originally released Aug 14th, 2020), and because it wouldn't be Thanksgiving without a little family, the interview includes a special appearance by 'father of the pod', Ambassador Ned Siegel.

Don't forget to rate, review and subscribe
Here are all our links in one place: https://linktr.ee/downthemiddle

September 24th, 2020 | Season 1 | 1 hr 52 mins

democrat, faith, government, news, politics, republican

Join us, as we ourselves are joined by a very special guest for the entirety of this episode on all things SCOTUS. We pay tribute to RBG, get into some Supreme Court 101, buzz through a 'Buzzed History' on a few landmark cases of the Supreme Court, bring back an old segment-friend, 'Partisanship: A Hell of A Drug', discuss the insanity going on in the Senate, and get some background on President Trump's potential nominees. This one is a barn burner, so don't try to take it sitting down. This Is Episode Seveeeenteeeeeen.

Don't forget to rate, review and subscribe
Here are all our links in one place: https://linktr.ee/downthemiddle

May 29th, 2020 | Season 1 | 55 mins 59 secs

democrat, faith, government, news, politics, republican

Ah, Episode 3...now with more format! Join us as we tackle current events with help from a Ben Shapiro quote, ask the question "Is President Trump a racist?" and we have our first interview, which was a very hard get, so we hope you appreciate it (spoiler alert: it's Justin's father). Yes, that's right, we are excited to welcome Ambassador Ned L. Siegel to the pod and discuss all things Israel and the problem of anti-semitism. Even 'The Dude' shows up, so sit back, relax (not too much) open your ears and don't forget to rate, review, subscribe, and follow us!