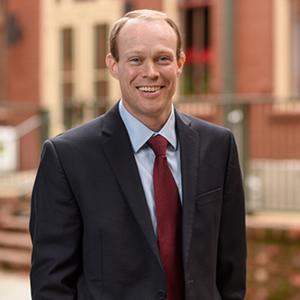 Adam MacLeod
Special guest
Adam MacLeod is a Professor of Law at Faulkner. He has been a visiting fellow in the James Madison Program in American Ideals and Institutions at Princeton University and a Thomas Edison Fellow in the Center for the Protection of Intellectual Property at George Mason University. He is co-editor of Foundations of Law (Carolina Academic Press 2017), and author of Property and Practical Reason (Cambridge University Press 2015) and of articles, essays, and book reviews in peer-reviewed journals and law reviews in the United States, United Kingdom, and Australia.
Professor MacLeod writes and speaks in numerous venues about the foundations of private law and private ordering. He teaches courses concerning property, intellectual property, jurisprudence, and private law theory. He is a faculty member in the Witherspoon Institute's graduate seminar on the Moral Foundations of Law. He contributes to journals of news and public opinion such as the Washington Times, New Boston Post, Public Discourse, and Library of Law & Liberty.
Professor MacLeod received his B.A., summa cum laude, from Gordon College and his J.D., magna cum laude, from the University of Notre Dame Law School. After law school, he served as law clerk to Chief Justice Christopher Armstrong and Justice Benjamin Kaplan of the Massachusetts Appeals Court and to Chief Judge Lewis Babcock of the United States District Court for the District of Colorado. He practiced law in the Boston area and has held appointment as a special Deputy Attorney General of Alabama. Professor MacLeod lives in Montgomery, Alabama with the joys of his life, his wife and daughters.
SOME SELECTED PUBLICATIONS AND PRESENTATIONS:
Books:
With Robert L. McFarland, Foundations of Law (Carolina Academic Press 2017)
Property and Practical Reason (Cambridge University Press 2015)
Book Chapters:
Dominion's Boundaries, in Christianity and Public Law (Robert Cochran and Michael Moreland, eds., Cambridge University Press 2019)
The Substantial Burden Test in RLUIPA, in Zoning and Planning Law Handbook (Patricia E. Salkin, ed., West Publishing 2012)
Academic Articles:
Patent Infringement as Trespass, 69 Alabama Law Review 723 (2018)
The Meaning of Vested Private Rights, 41 Harvard Journal of Law & Public Policy 253 (2017)
Tempering Civil Rights Conflicts: Common Law for the Moral Marketplace, 2016 Michigan State Law Review 643
Strategic and Tactical Totalization in the Totalitarian Epoch, 5 British Journal of American Legal Studies 57 (2016)
Rights, Privileges, and the Future of Marriage Law, 28 Regent University Law Review 71 (2015) (invited)
Bridging the Gaps in Property Theory, 77 Modern Law Review 1009 (2014) (invited)
Universities as Constitutional Lawmakers, 17 University of Pennsylvania Journal of Constitutional Law Online 1 (2014)
Private Rights and Duties, 6 Faulkner Law Review 65 (2014) (invited)
Identifying Values in Land Use Regulation, 101 Kentucky Law Journal 55 (2012)
The Mystery of Life in the Laboratory of Democracy: Personal Autonomy in State Law, 59 Cleveland State Law Review 589 (2012)
Resurrecting the Bogeyman: The Curious Forms of the Substantial Burden Test in RLUIPA, 40 Real Estate Law Journal 115 (2011)
Empathy's White Elephant: Responding to the Subprime Mortgage Crisis Without Denigrating the Poor, 9 Georgetown Journal of Law & Public Policy 283 (2011)
A Non-Fatal Collision: Where Religious Land Uses and Community Interests Meet, 42 Urban Lawyer 41 (2010)
A Gift Worth Dying For?: Debating the Volitional Nature of Suicide in Personal Property Law, 45 Idaho Law Review 93 (2008)
The Search for Moral Neutrality in Same-Sex Marriage Decisions, 23 BYU Journal of Public Law 1 (2008)
All for One: A Review of Victim-centric Justifications for Criminal Punishment, 13 Berkeley Journal of Criminal Law 31 (2008)
The Groningen Protocol: Legalized Infanticide in the Netherlands and Why it Should Not be Adopted in the United States, 10 Michigan State Journal of Medicine & Law 557 (2006)
Select Academic Book Reviews:
(Natural) Law Matters, Public Discourse (February 2, 2017) (a review of Richard Helmholz, Natural Law in Court)
Banking on the Margins or the Core of Human Flourishing?, Public Discourse (December 7, 2016) (a review of Samuel Gregg, For God and Profit)
Judging What?: A Review of Robert Katzmann, Judging Statutes, Library of Law and Liberty (March 2015)
Who's Afraid of Legislative Intent?: A Review of Richard Ekins, The Nature of Legislative Intent, Library of Law and Liberty (February 2014)
At and Along: A Review of The Law and Ethics of Medicine by John Keown, 34 Adelaide Law Review 211 (2013)
Review of What Is Marriage: Man and Woman—A Defense, Journal of Faith and the Academy (2013)
Review of Jean Porter, Ministers of the Law, 4 Journal of Faith and the Academy 68 (2011)
Select Essays:
Law Schools Guard Entry Into the Profession and Should Teach Virtue, James G. Martin Center (July 26, 2017)
That Time I Turned a Routine Traffic Ticket Into the Constitutional Trial of the Century, Public Discourse (January 13, 2017)
The Third Amendment: A Neglected Measure for a Skeptical Age, Washington Times Special Bill of Rights Anniversary Edition (December 15, 2016)
Gordon College and Pluralism in Higher Education, Public Discourse (July 30, 2014)
What's at Stake at the Bakery: How Property Rights Got Sexy, Public Discourse (March 4, 2014)
Principled Entitlement Reform: Private Ordering Needs Room to Grow, Public Discourse (August 8, 2013)
A Moral Foundation for Entitlement Reform, Public Discourse (August 7, 2013)
Assisted Suicide: The Forgotten Front in the Fight for Life, Public Discourse (September 14, 2011)
Other essays and book reviews for Public Discourse: http://www.thepublicdiscourse.com/author/adam-j-macleod/
Other essays and book reviews for Library of Law and Liberty: http://www.libertylawsite.org/author/adam-macleod/
Select Presentations:
IP as a Property Doctrine, Center for Innovation, Intellectual Property and Competition, National Law University, Delhi India (March 22, 2018)
Self-governance and Intellectual Property, Conference on Voluntary Governance, Michigan State University, James Madison College (December 2, 2017)
What Remains of Property Rights?, plenary address, Philadelphia Society (April 1, 2017)
Race and the Constitution: Equality or Reason?, Pepperdine University Constitution Day lecture (September 20, 2016)
Common Law Foundations of the Moral Marketplace, Johnson Center for Political Economy, Troy University (April 15, 2016)
Property and Charity, Queen's University, Ontario (March 2, 2015)
Tactical Totalitarianism, Princeton University, James Madison Program in American Ideals and Institutions (May 19, 2014)
At and Along: Meditation in a Toolshed on the Inviolability of Human Life, Huntingdon College (November 21, 2013)
Union University—Constitutional Law Maker: The Role of Intermediary Institutions in Our Constitutional Structure, Constitution Day Lecture, Center for Politics and Religion, Union University (September 20, 2013)
The justification for marriage ballot initiatives, American Constitution Society, Suffolk Law School chapter (October 16, 2012)
Adam MacLeod has been a guest on 1 episode.
June 19th, 2020 | Season 1 | 49 mins 14 secs

academic, civility, democrat, faith, government, news, politics, professor, republican, university

Join us as we go in deep with Professor Adam MacLeod on the topic of civil discourse and how to bring our nation back to civility. Let us know what you think! Rate, review, and subscribe